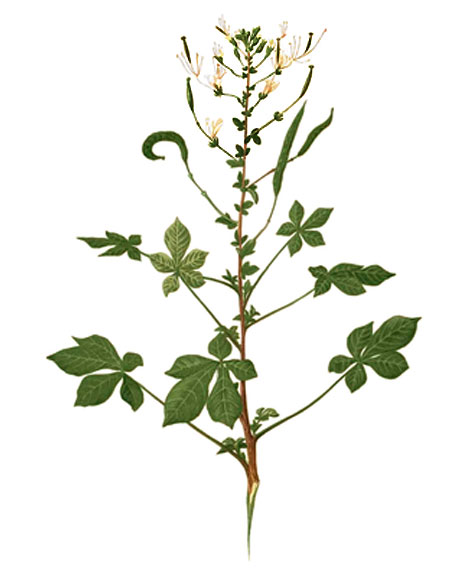 Botany
Apoi-apoian is an erect, branched, somewhat hairy herb, growing 0.4 to 1 meter high, usually with purplish stems. Leaf has a very long petiole with five leaflets. Leaflets are obovate or oblong-obovate, 2 to 5 centimeters long, pointed at the base, more abruptly pointed at the tip. Flowers are borne in racemes which terminate the branches, showy and somewhat spidery in appearance. Sepals are lanceolate, green, about 4 millimeters long. Petals are white or tinged with purple, 1 to 1.2 centimeters long, withe elliptic to obovate blades. Fruit is a cylindric capsule, 4 to 10 centimeters long, about 5 mm in diameter, containing numerous, small, dark-brown seeds.
Distribution
- At low and medium altitudes, occurring as a weed in waste places, often abundantly, especially near the sea.
- Pantropic.
Constituents
- Plant yields an acrid, volatile oil having the properties of garlic or mustard.
- Seed yields a thick, greenish, drying oil.
- Screening for secondary metabolites yielded alkaloids, cynanogenetic glycosides and steroidal nucleus. (12)
Properties
- Plant has an odor resembling asafoetida, but more delicate.
- Seeds considered to have properties similar to those of mustard.
- Seeds are febrifuge, antispasmodic, sudorific, anthelmintic, carminative.
- Leaves considered rubefacient and vesicant.

Parts used
Leaves, seeds.

Uses
Edibility / Nutrition
- Throughout Africa, the tender leaves or young shoots, often the flowers, are boiled and consumed as potherb, relish, flavoring for sauces, stew or side dish. Fresh leaves are bitter and so are cooked with other vegetables; also, are ingredients of mashed foods and dried leaves are ground and incorporated in weaning foods.
- Flavor suggests that of radishes.
- Often pickled with salt and added to rice as a flavoring.
- Rich source of nutrient, especially vitamins A and C, minerals (calcium and iron).
Folkloric
- Bruised leaves used as counterirritant or revulsive.
- Leaves used externally as the seeds of mustard, and taken internally for certain bilious disorders.
- Whole plant made into an ointment applied to pustular eruptions of the skin; simply boiled in oil, used - for cutaneous diseases, especially leprosy.
- In Indo-China, used as antiscorbutic.
- Bruised leaves used as rubefacient and vesicant, producing copious exudation, providing relief obtained from blister without its inconveniences.
- Shangaans used the pounded leaf as counterirritant in rheumatism, neuralgia, headache, stiff neck, taking care to withdraw the application before it produces a blister.
- Leaf juice used occasionally for earache, otorrhea, and other ear affections.
- Root decoction used as mild febrifuge.
- Decoction of seeds used as wash for piles, rheumatism and malarial disorders.
- Seeds are febrifuge and applied locally for headaches.
- In Africa, leaves are crushed for a concoction to drink as scurvy cure. In other communities, leaves are boiled and marinated in sour milk to become a nutritious meal, believed to improve eyesight, provide energy, and cure marasmus. Also, highly recommended for pregnant and lactating women. Also, used in the treatment of bronchitis, boils, earaches and nasal congestion and as eyewash.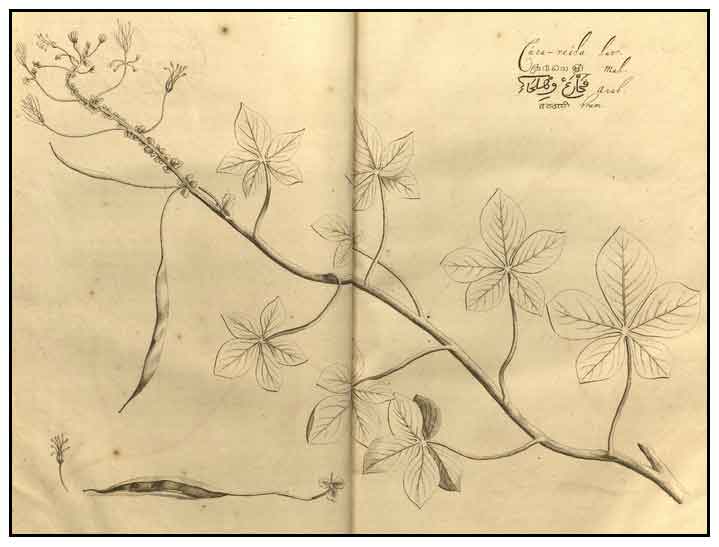 Studies
• Antimicrobial / Antifungal / Phytochemicals: Phytochemical screening yielded tannin, alkaloid, flavones, sugar, phenolic group, essential oil, amino acids, and saponin. Antimicrobial activity was shown against Agrobacterium tumefaciens, Penicillium notatum. The extracts of leaves showed the highest activity and the highest activity index was against the fungus P notatum. (1)
• Antimicrobial: Study showed showed activity against A niger, A flavus and Metarhizium anisopliae, with the seed extract showing the highest activity.
• Essential Oil / Tick Repellent: Study of the G. gynandra oil yielded 28 compounds; carvacrol occurred in the largest quantity (29.2%), followed by trans-phytol (24.0%), linalool (13.3%), among others. Tested against the livestock tick, Rhipicephalus appendiculatus, the oil exhibited a repellency effect higher than a commercial arthropod repellent. Methyl isothiocyanate which occurred at a relative percentage of 2.1, not tested in the bioassay due to its toxicity may have contributed significantly to the repellency of the oil. (2)
• Allergic Disorders / Immunotherapy: Study evaluating the effect of immunotherapy with specific pollen of Gynandropsis gynandra showed both immediate and delayed skin test responses were highly significant. The symptom intensity score and medication was reduced and total IgE levels were inconsistent after the course of IT. (4)
• Immunotherapy: Stu Aeroallergens play a major role in the pathogenesis of respiratory allergic diseases - asthma, rhinitis, atopic dermatitis, urticaria. In a study evaluating the effect of immunotherapy towards whole pollen antigen of G gynandra and its fractions showed a significant increase in IgG and its subclass antibodies specific to Gg pollen.
• Lipid Peroxidation Inhibition / Antioxidant: Study of G. gynandra extract confirmed its chemopreventive efficacy by diminishing the rate of lipid peroxidation and significantly increasing the levels of enzymatic (superoxide dismutase, catalase, glutathione peroxidase) and nonenzymatic (reduced glutathione vitamins E and C, and uric acid) antioxidants.
• Anthelmintic: Study of G gynandra and B coriaceae extracts showed considerable anthelmintic activities against Fasciola gigantica, Taenia solium and Pheritima posthuma. (6)
• Anthelmintic / Seed Oil: Study of seed oils from five medicinal plants, including G gynandra, all showed moderate to significant anthelmintic activity against Pheritima posthuma. (10)
• Anti-Inflammatory / Antinociceptive: Study of G gynandra extract showed significant dose-dependent analgesic and anti-inflammatory activity. (7)
• Modulatory Effect on Hepatocellular Carcinoma: The modulation of glucose-metabolizing enzyme activities play a role in the depletion of energy metabolism that leads to inhibition of cancer growth. In this study, the effect of Gg extract on aflatoxin-induced hepatocellular carcinoma on glucose metabolizing enzymes in rats caused a significant increase in the activities of glycolytic enzymes and an increase in gluconeogenic enzyme activities. The results suggest a definite modulating role on the key enzymes of glucose metabolism in HCC and may be due to phytoactive constituents in the extract. (9)
• Anticancer: Study of methanol extract of Cg in Swiss albino mice agains