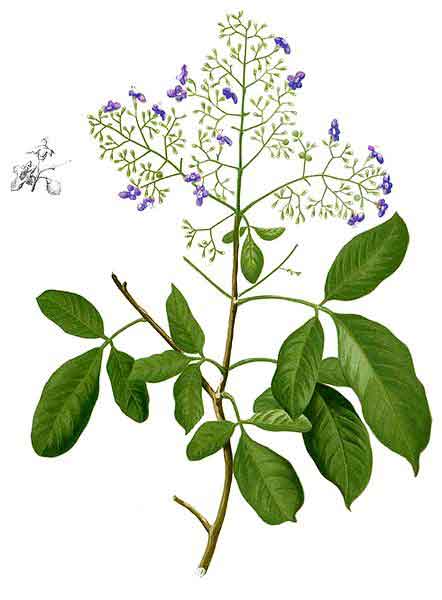 Botany
Lagunding-dagat is a shrub or small tree growing from 1 to 4 meters high, sometimes prostate or ascending in habit. Leaves are simple or 3-foliolate. In the prostrate form, the leaves are all simple, stalkless, oblong to oblong-elliptic, 4 to 7 centimeters long, 1.5 to 4 centimeters wide, pointed at both ends, smooth and shining on the upper surface, and sparsely covered with gray hairs beneath. Flowers are numerous, borne in terminal, oblong panicles 5 to 10 centimeters long. Corolla is hairy, lavender to blue. Tube is about 8 millimeters long, the larger central lobe of the lower lip has a white blotch at the base; limb is 12 millimeters in the greatest diameter. Fruit is rounded, 4 to 5 millimeters in diameter.
Distribution
- Along the seashore throughout the Philippines.
- Occurs in similar habitats in India to Mauritius and Japan, and southward through Malaya to tropical Australia and Polynesia.
Constituents
• Study yielded 31 compounds and 28 were identified as triterpenes, fatty acids, flavones, and derivatives of benzene.
• Leaves Leaves yield an essential oil and resin.
• Fruit contains an acid resin, an astringent organic acid, malic acid, traces of an alkaloid, and coloring matter.
• Chemical studies of leaves and twigs yield an essential oil, 0.11 - 0.28 per cent. Chief constituents of the oil are l-d-pinene and camphene (55 %); terpinyl acetate (10 %); and a diterpene alcohol (20 %).
• Study isolated a new benzofuran-type lignan, vitrifol A, from the fruits of V. trifolia with three known compounds.
• Study yielded five triterpenoids: (1) ursolic acid (2), 2alpha,3alpha-dihydroxyurs-12-en-28-oic acid (3) betulinic acid (4) taraxerol, and (5) 2alpha,3beta, 19-trihydroxyurs-12-en-28-oic acid.
Properties
Leaves considered antiseptic, aromatic, febrifuge, anodyne, diuretic, emmenagogue.
Fruit considered nervine, cephalic, emmenagogue.

Parts used
Leaves and roots.

Uses
Folkloric
• For that peculiar Filipino malady characterized by an intense localized burning in the soles of the feet - quemaduras del pie o ignipedites - application of leaves 3 to 4 times daily provides relief. The leaves are heated in an earthen pot without the addition of water, then applied when sufficiently hot, and held in place by a bandage.
• Decoction of leaves used for aromatic baths.
• In Malaya, decoction of roots is drunk for fever and after childbirth.
I• n India, leaves used as anodyne, diuretic and emmenagogue. Leaves in fomentations and baths used for treatment of beri-beri and burning of the feet.
• Dry fomentation of leaves used for sprains, contusions and rheumatism.
Infusions used for intermittent fevers with scanty urine, rheumatism and as febrifuge.
• In Malaya, leaves are ground with garlic, pepper, turmeric and boiled rice and made into pills and given for consumption.
• Powdered leaves used as febrifuge and antiseptic.
• Used for headache, catarrh, watery eyes, and to promote growth of the beard.
• Used in treatment of breast cancer.
• Powdered fruit, sweetened or mixed with honey, or in decoction, used as nervine, cephalic and emmenagogue.
• In Chinese medicine, dried fruit has been used for colds, headache, migraine, eye pain. In some parts of China, used as folk medicine to cure certain cancers.

Studies
• Vitexicarpin / Apoptosis-Inducing: In a study investigating the inhibitory effect of vitexicarpin on the proliferation of human cancer cells showed it induces apoptosis in K562 cells via mitochondria-controlled apoptotic pathway.
• Larvicidal: (1) In a study of four species of Vitex against Culex quinquefasciatus larvae, the highest larvicidal activity was found with the extract of V. trifolia. (2) In a study of the larvicidal activity of fatty acid methyl ester extracts of V. altissima, V. negundo and V. trifolia against early fourth-instar larvae of Culex quinquefasciatus, the extract of V. trifolia showed the highest larvicidal activity.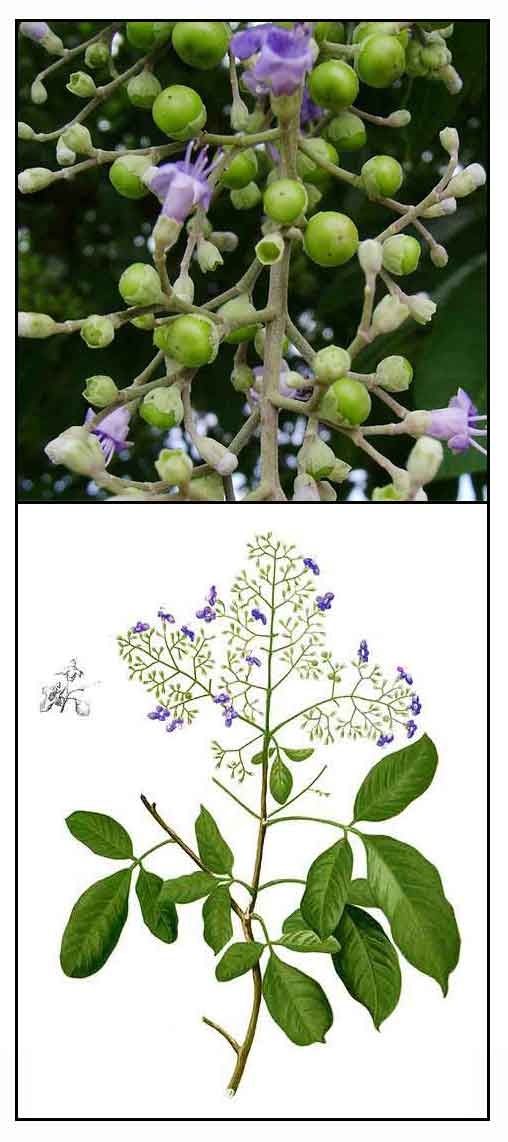 • Anti-Cancer / Antifungal: Hexanic and dichloromethanic extracts showed toxicity against several cancer lines in culture. The hexanic extract from the leaves completely inhibited the growth of the fungal plant pathogen Fusarium species.
• Hepatoprotective: (1) Study showed V trifolia could provide significant protection against CCl4-induced hepatocellular injury. The hepatoprotective activity is supported by histological studies of liver tissue. (2) Study showed the flowers of V. trifolia possess hepatoprotective activity on CCl4-induced hepatic injury in rats.
• Anti-Inflammatory: Aqueous extract of Vitex trifolia showed significant dose- and time-dependent inhibitory activity on interleukin (IL)-1B, IL-6 and iNOS mRNA synthesis.
• Wound Healing: Study on the wound healing potency of ethanol leaf extracts of V trifolia and V altissima showed both extracts to possess significant would healing potency. Of the two, V trifolia showed maximum healing activity compared to V altissima.
• Anti-Asthmatic Compounds: Study of leaves of V trifolia isolated three compounds – viteosin-A, vitexicarpin and vitetrifolin-E. Vitexicarpin was the most active of the three. The mechanism of activity seems to be non-competitive antagonism to histamine and stabilization of mast cells membrane function.
• Antibacterial: Various extracts of Morinda citrifolia, Vitex trifolia (leaf) and Chromolaena odorata were evaluated for antibacterial activity. The extracts showed comparable antibacterial activity towards bacterial isolates, supporting its traditional use and suggesting a potential use for the treatment of infectious disease and development of chemotherapeutic agents.
• Antinociceptive / Anti-Inflammatory: Study of leaf extract showed significant anti-nociceptive and anti-inflammatory activity. The leaf extract potentiated the analgesic activity with pentazocine and aspirin. It showed dose-dependent anti-inflammatory activity in the carrageenan-induced paw edema model.
• Anticancer / Vitexicarpin: Study carried out to identify anticancer components isolated 18 compounds: labdane-type diterpenes 1-6, flavonoids 7-13, iridoid, lignan, steroid, phenolic and fatty acids 14-18. Compound 9, vitexicarpin, exhibited strong dose-dependent anticancer activity. Further anticancer evaluation showed inhibitory activity of vitexicarpin on the proliferation of K562 cells.
Availability
Wild-crafted.