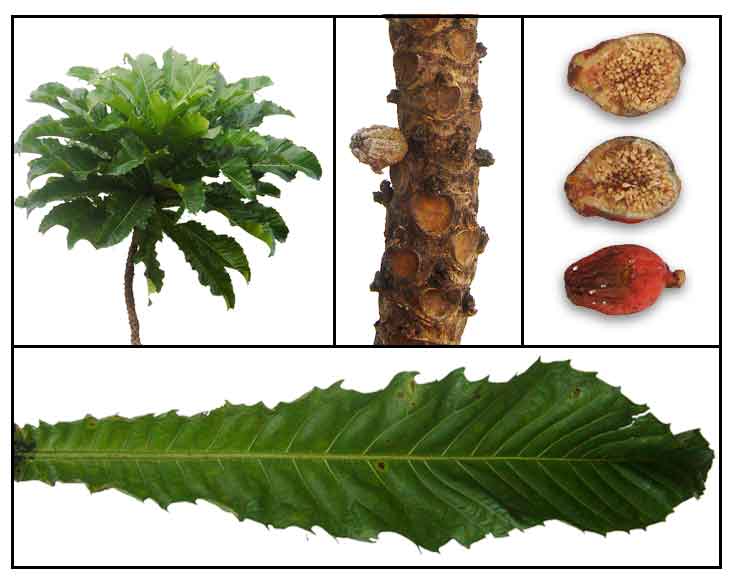 Botany
Niyog-niyogan is an erect, glabrous, unbranched shrub growing to a height of 5 meters. Leaves are crowded at the end of the stems,spreading and short-petioled, oblanceolate with a cordate base and an acute apex. Blade is coriaceous and dark-green, coarsely toothed growing to more than 25 centimeters long. Fruit is ovoid, angular, up to 4 centimeters long, on short peduncles and crowded at the axils of the leaves. The leaves and fruits leave a pattern of scars on the trunk.

Distribution
- Endemic to the Philippines
- Widely distributed in thickets at low altitudes.
- Occasionally planted for its ornamental leaves.
- Sparingly cultivated in Hawaii.

Constituents
- Phytochemical extracts yielded flavonoids, unsaturated sterol and triterpene, steroid glycoside, saponin, tannin and phenol.
Parts utilized
Leaves

Uses
Nutrition
- Young shoots are edible.
- In the Bicol area, leaves are cooked in gata (coconut milk).
Folkloric
- Decoction of leaves used for kidney stones and diabetes.
Studies
• Hypoglycemic: Hydroalcohlic extract of dried leaves of Ficus pseudopalma, P. niruri, and Ipomoea batatas were tested on non-diabetic and diabetic Swiss mice. All five doses of F. pseudopalma exhibited hypoglycemic activity. It also showed slight toxicity orally and intraperitoneally. (1) α-amyrin acetate may be one of the active constituents in the anti-diabetic property of F. pseudopalma.
• Terpenoids / Sterols: Dichlormethane extracts of dried leaves of F pseudopalma and Ficus umifolia yielded terpenoids and sterols. Compounds were identified as α-amyrin fatty acid ester, ß-amyrin acetate, lupeol fatty acid ester, lupeol acetate, squalene, polyprenol, phytol, lutein, ß-carotene, stigmasterol, and sitosterol. Previous studies have shown a wide range of biologic activities: α-amyrin, with hypoglycemic activity, and lupeol for treatment of kidney stones. (2)
• Lubi-lubi in Vegetable Noodles: Study conducted by the Sorsogon State College reports that vegetable noodles enriched with lubi-lubi leaves, used as puree, is highly nutritious, highly acceptable in taste, texture, and color. (3)
• Lupeol / Antioxidant / Leaves: Study demonstrated the free-radical scavenging activity of leaf extracts of F. pseudopalma. Chromatographic analysis identified lupeol as one of the possible active components. (4)
• Antibacterial / Leaves: Study investigated the antimicrobial properties of F. pseudopalma leaf extracts. Results showed antibacterial activity against Gram positive bacteria which may be attributed to flavonoids and terpenoids in the crude ethanolic extract. (5)
• Cytotoxicity / Apoptotic Activity / Human Prostate Cancer Cell Line: Study of F. pseudopalma leaf extracts showed cytotoxic and apoptotic activities against human prostate PRST2 cancer cell lines, which may be due to the presence of lupeol and quercetin. (6)
• Acute Toxicity Study / Leaves: Study evaluated the acute oral toxicity of a crude ethanolic leaf extract. Toxicological and pharmacological observations, together with histological examination showed the leaf extract is not toxic ad safe for consumption up to 2000 mg KBW, and therefore safe for nutraceutical and drug development. (7)
• Acute Toxicity Study / Leaves: Study showed a hot-water extract of leaves significantly suppressed the increase of blood glucose levels after glucose, maltose, and starch loading. However, it did not show any hypoglycemic effect in fasted or non-fasted mice. Results suggest a potential usefulness in the management of postprandial elevations of blood glucose. (8)
• Enriched Lubi-Lubi Noodles: Study investigated the development and acceptability of an enriched lubi-lubi noodle utilizing its puree as indigenous ingredients. Study concluded that lubi-lubi leaves are potential flavoring in the preparation of enriched lubi-lubi noodles. (9)
• Free-Radical Scavenging Activity: In a study investigating the hypoglycemic and free-radical scavenging activities of Ficus pseudopalma, Musa paradisiaca and Syzygium cuminii, F. pseudopalma showed the greatest free radical scavenging activity. (10)

Availability
Wild-crafted.
Occasionally planted for ornamental use.