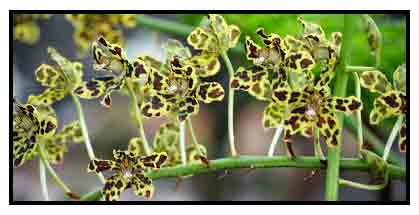 Botany
Tawa-tawa is an epiphytic orchid which is variable in size. Pseudobulbs are stout, ovoid or fusiform, terete, and 12 to 20 centimeters long. Leaves are oblanceolate, oblong, and 20 to 40 centimeters long. Racemes with the peduncle are 0.6 to 1.5 meters long, spreading, and nodding or pendulous. Flowers are numerous, each about 5 to 8 centimeters across. Sepals and petals are obovate-oblong, yellowish-green, and covered with large, reddish-brown blotches. Lip is three-lobed, and yellow with purple nerves. Column is incurved. Anther is orbicular and hairy, the pollinia subglobose.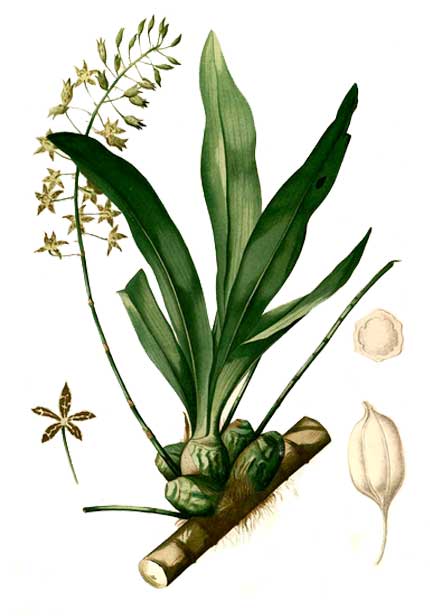 Distribution
- Widely distributed in the Philippines, from sea level to an altitude of 500 meters.
- Occurs in Indonesia, Borneo and New Guinea.

Parts used
Pseudobulbs.

Uses
Folkloric
- In upland Cavite, decoction of leaves used for fever and colds, cough and flu. (3)
- In Indonesia, paste of pseudobulb put on sores or applied to the stomach to expel worms and malignant tumors. Decoction of whole plant used to expel worms.
- In Indonesia, paste from pseudobulbs pounded together with Curcuma domestica (turmeric) is applied on fingers afflicted with whitlow (bacrterial infection of the nailbed). (4)
- Paste of bulb used for treating sores and intestinal afflictions.
- Macerated orchid used for treating aphthae.
- Used as part of diet for dysentery.
- In the Siiwai and Buin districts of Bougainville, stems used by mothers who have delivered but are not lactating. (2)
Others
- Spells: In the Moluccas, the seeds have been added to a woman's food to cast a love spell and ensnare her for life.
Studies
• No studies found.

Availability
Wild-crafted.