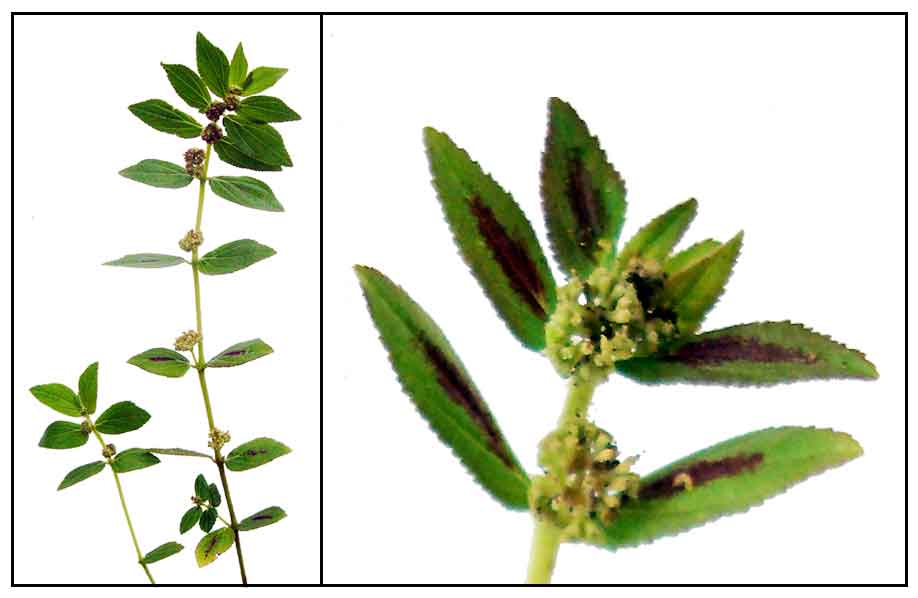 General info
Euphorbia is the largest genus of the family Euphorbiaceae with about 1600 species. All species of Euphorbia exude a milky juice when broken, and Euphorbia hirta's local name "gatas-gatas" derives from this.
Botany
Gatas-gatas is a slender-stemmed, annual hairy plant with many branches from the base to the top, the branches simple or forked and ascending or spreading, up to 40 centimeters tall, reddish or purplish in color. Leaves are opposite, elliptic-oblong to oblong-lanceolate, distichous, 1 to 2.5 centimeters long, usually blotched with purple in the middle, toothed at the margin. Involucres are numerous, purplish to greenish in color, borne in dense, axillary, stalkless or short-stalked clusters or crowded cymes, about 1 millimeter in length. Capsules are broadly ovoid, hairy, three-angled, about 1.5 millimeters long.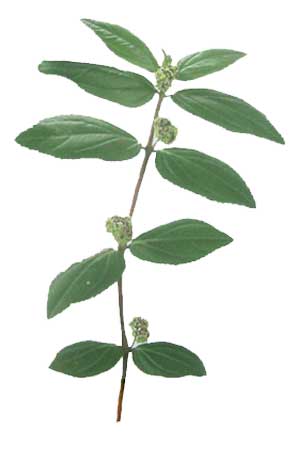 Distribution
- Abundant throughout the Philippines, in waste places, open grasslands, etc.
- Pantropic.
Constituents
- Studies have isolated gallic acid, quercetin, triacontane, cetyl alcohol, phytosterol, phytosterolin (phytosterol glucoside); jambulol, melissic, and a mixture of acids consisting chiefly of palmitic, oleic, and linoleic acid.
- Phytochemicals screenings have yielded alkaloids, essential oil, phenols, sterol, flavones and fatty acids.
- Yields flavonoids: euphorbianin, leucocyanidol, camphol, quercitrin and quercitrol.
- Study has suggested that some of the constituents of the plant are similar to those of the jambul (Syzygium cumini) seeds.
- Dried leaves yielded a moisture content of 9.70%, protein 13.5% ±0.15, fat 1.13% ±0.06, ash 3.13% ±0.06, crude fiber 3.57% ±0.06, and carbohydrate 69.5% ±0.20. Vitamin content showed ascorbic acid 26.1 mg/100g, thiamine 0.60, riboflavin 1.20, and niacin 0.70. (37)
- Phytochemical screening of extracts yielded the presence of carbohydrates, lipids, proteins, flavonoids, alkaloids, saponins resins, steroids, acidic compounds, tannins, glycosides, phenols and terpenoids. (see study below) (45)
- Study of aerial parts (leaves and stems) revealed saponin, sterol, terpene, alkaloids, polyphenols, tannins, flavonoids and especially mucllage. Physiochemical study yielded a moisture content of 7.73% ± 0.00%, total ash 7.48% ± 0.03%, sulfuric ash 9.05% ± 0.01%, hydrochloric acid insoluble ash of 0.8% ± 0.02%. Mineral analysis yielded magnesium, potassium, calcium, zinc, and traces of chrome. (55)
Properties
- Considered anti-asthmatic, antibacterial, antidote, antifertility, antifungal, antimalarial, anti-spasmodic, anthelmintic, antidysenteric, diuretic, expectorant, pectoral, hemostatic, sedative, soporific.

Parts used
Entire plant.

Uses
Folkloric
- Called gatas-gatas because of the healing property of the milky juice.
- In the Philippines, leaves are mixed with Datura metel leaves and flowers in the preparation of "asthma-cigarettes."
- Latex is prescribed for asthma.
- Entire plant prescribed as an antidote; considered hemostatic, sedative, and soporific.
- Decoction used to allay the dyspnea of asthmatics.
- Fluid extract of tincture is used in asthma, chronic bronchitis, and emphysema, also in pulmonary cardiac disease and angina pectoris.
- Used for acute and chronic dysentery.
- Tincture is used as anthelmintic. Also used for ringworm.
- Juice used for colic.
- Juice used as ophthalmic drops for conjunctivitis or ulceration of the cornea. Stem sap used in the treatment of styes.
- Leaf poultice used for swellings and boils.
- Infusion or tea of the plant, 4 glasses daily, for bronchitis and labored breathing, asthma, chronic dysentery.
- Used for boils and wounds.
- Decoction of dry plant used for skin disease.
- Decoction of fresh plant used as gargle for the treatment of thrush.
- Decoction of the root used to allay vomiting, chronic diarrheas, and fevers.
- Root decoction also beneficial for nursing mothers deficient in milk: 4-5 glasses of tea.
- The same root decoction as an enema for constipation.
- Root used for snake bites.
- Used in sores, wounds, boils. As ear drop for pustular swellings in the ear.
- Leaves are mixed with Datura metel leaves and flowers to make the "asthma-cigarette."
- Latex also prescribed for asthma.
- Superficial bleeding: Crush leaves and apply on affected part, as local hemostatic.
- In Australia and elsewhere, used for asthma and pectoral complains.
- In Brazil, decoction used for gonorrhea and asthma.
- In Africa and Australia, used to treat hypertension and edema.
- In India, used for treatment of syphilis; sap applied to warts. Also for affections of children, especially bowel and chest complaints. The milky juice is dropped into eyes for conjunctivitis and corneal ulcerations.
- Plant decoction: 25 gms of the whole plant to a pint of boiling water; boil for 3-4 minutes; drink 3-5 glasses a day. Externally as needed.
- In traditional Indian medicinal systems, leaves used in the treatment of coryza, cough, asthma, bronchial infections, bowel complaints, helmintic infestations, wounds, kidney stones and abscesses.
- Santals use the root to allay vomiting; also, used by nursing mothers with deficient milk supply.
- In the Gold Coast, ground and mixed with water and used as an enema for constipation.
- In La Reunion, used as astringent in chronic diarrheas and dysentery.
- Roots used for intermittent fevers.
Recent interests from the folk medicine grapevine on Dengue
- Dengue and anecdotal reports of "cures" from the use of tawa-tawa has created a flurry of queries, web blogs, and sustained media interest.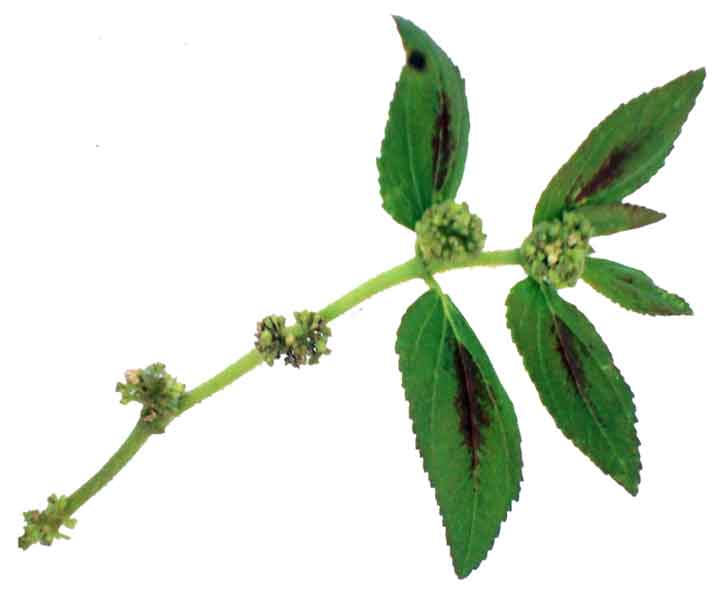 - Suggested Tea preparations:
(1)
- Take 5 to 6 full whole Tawa Tawa plants
- Cut off the roots; wash and clean
- Fill a boiling pot with clean water
- Boil the Tawa Tawa for 1 (one) minute in a slow rolling boil; cool
- Let the dengue fever victim drink only the Tawa Tawa water for 24 hours
- Sip 1 to 1.5 glasses of Tawa Tawa water every hour.
(2)
- Cut roots off 5 to 6 gatas-gatas plants.
- Rinse. Put the tawa-tawa into a pot of boiling water for one minute.
- Cool. Drink the decoction, 1 to 1 1/2 glasses, every hour for 24 hours. (Also see: Papaya)
(3)
- Prepare 100 grams of fresh whole plant including roots.
- Wash and boil in 500 cc of water for 15 minutes. Cool and paper-filtrate.
- Drink a glassful of decoction every hour until fever subsides.

Studies
• Anti-Diabetic / Lipid Effect: Study of ethanolic extracts of leaf, flower and stem on streptozotocin-induced diabetic mice showed significant reduction in blood glucose levels. Biochemical effects showed significant decreases in serum cholesterol with elevation of HDL. Results showed EH has antidiabetic action and suggests further study for isolation of responsible compound. (15)
• Antibacterial: Antibacterial Activities And Toxicological Potentials Of Crude Ethanolic Extracts Of Euphorbia hirta: The study showed the ethanolic extract to inhibit the growth of test isolates except Salmonella typhi. The antibacterial effect was attributed to the presence of alkaloids, tannins and flavonoids which have been shown to have antibacterial properties. The results support its use in traditional medicine. (2)
• Antibacterial: Study on the antibacterial effect of compounds extracted from C sinensis and the methanol extract of E hirta against dysentery causing Shigella spp showed the extracts to be non-cytotoxic and effective antibacterial agents.
• Antibacterial: Methanolic extract inhibited the growth of S. aureus, E. coli, and B. subtilis. Phytochemical screening yielded terpenes, tannins, alkaloids and flavonoids.
• Diuretic: Euphorbia hirta leaf extracts increase urine output and electrolytes in rats: Study suggests that the active components in the water extract of E. hirta leaf had similar diuretic effect as that of acetazolamide. The results validate its traditional use as a diuretic by the Swahilis and Sukumas. (3)
• Anti-Allergic: Inhibition of early and late phase allergic reactions by Euphorbia hirta L: Study demonstrated that E. hirta possessed significant activity to prevent early and late phase allergic reactions.  (4)
• Anthelmintic: Anthelmintic efficacy of the aqueous crude extract of Euphorbia hirta Linn in Nigerian dogs: Extract of E. hirta Study reduced the fecal egg count of the helminths and suggests a potential as an anthelmintic agent. (5)
• Antihypertensive / ACE Inhibition: Angiotensin converting enzyme inhibiting and anti-dipsogenic activities of Euphorbia hirta extracts: Study showed the extract from leaves and stems inhibited the activity of angiotensin-converting enzyme (ACE). (6)
• Anxiolytic / Sedative: Euphorbia hirta showed an activity profile different from that of benzodiazepines. Study showed a central depressant and sedating effect with no hypnotic or neuroleptic effects. (7)
• Anxiolytic / Sedative: Study validated the traditional use of E. hirta as a sedative with anxiolytic properties.
• Antidiarrheal: Study investigated the antidiarrheal activity of Euphorbia hirta extract. An active flavonoid constituent, quercitin, was isolated and showed anti-diarrheic activity. (9)
• Antibacterial / Antifungal: The ethanol extract was analyzed for antimicrobial activity against S aureus, B cereus, S typhi, K pneumonia, P aeruginosa and fungus species A niger, A fumigatus, A flavus and R oryzae. Study of leaves isolated tannins, flavonoids, alklaloids, glycosides, proteins, sterols and saponins. Antimicrobial activity was attributed to one of these constituents. Leaves collected from August to December showed more significant antimicrobial activity. (11)
• Galactogenic: E hirta study in female guinea pigs increased the development of mammary glands and induced secretion.
• Antifertility: E hirta has been shown to decrease sperm motility, density of cauda epididymal and testis sperm suspension with 100% infertility.
• Anti-Malarial / Flavonol Glycosides: Study of aerial parts isolated flavonol glycosides afzelin, quercitin and myricitrin. The three compounds showed inhibition of proliferation of Plasmodium falcifarum. (12)
• Anticancer / Antiproliferative: (1) Studies of extracts of E hirta have shown selective cytotoxicity against several cancer line. (2) Extracts screened showed anti-proliferative activities against normal mouse fibroblast cells. (3) Study of a methanol extract of leaves of E. hirta on Hep-2 cells from human epithelioma of larynx showed anti-proliferative activity.
• Antioxidant: Study of various extracts of leaves showed potent in vitro antioxidant activity. Total antioxidant activity was higher in an acetone extract compared to alcohol extract. (30) Studies of methanol and water extracts showed antioxidant activities comparable to that of green and black teas.
• Anti-Inflammatory: n-hexane extract of aerial parts and its main triterpene constituents showed significant and dose-dependent anti-inflammatory activity.
• Anti-Inflammatory / iNOS Protein Inhibition: An extract of Euphorbia hirta and its component beta-amyrin are able to block most of the iNOS protein functions and NO induction, and presents a potential as a new selective NO inhibitor for the treatment of arthritis inflammation. (20)
• Platelet Effect / Dengue Treatment: Study of decoction of tawa-tawa leaves on Sprague-Dawley rats showed an increase in platelet counts without notable effects on RBC and WBC counts. The increase was attributed to stimulation of platelet production in the bone marrow. (18)
• Anti-Arthritic: Euphorbia hirta possibly affects cartilage degeneration through matrix metalloproteinases(MMP-13) pathways and tissue inhibitors of matrix metalloproteinases (TIMP-1) pathways, displaying dose-dependent effects on their levels. Results suggest a viable alternative to treatment of arthritis. (19)
• Anti-Tumor: The antitumor activity of the aerial part of E. hirta was evaluated against EL-4 cell line (S.C.) in Swiss albino mice. There was a significant enhancement of mean survival time and reduction of solid tumor mass of EF-treated tumor bearing mice. (21)
• Antiviral / Anti-HIV1 / Anti-HIV2 / SIV: Antiretroviral activities of extracts of E. hirta were investigated in vitro on MT4 human T lymphocyte cell line. A dose-dependent inhibition of RT activity was observed for all three viruses. A 50% methanolic extract exhibited a higher antiretroviral effect than an aqueous extract. Study concludes that tannins are probably responsible for the high antiretroviral activity. (23)
• Acute Toxicity Study: Study evaluated the acute toxicity of Euphorbia hirta plant material in Swiss mice. Results showed no toxicity at a dose of 10 g/kbw. E. hirta was found safe, with no delayed toxic signs in all experimental groups. (27) Acute toxicity study showed the toxic dose may be above 3000 mg/kg.
• Sub-Chronic Toxicity Study: Study evaluated the in vivo toxicity of methanolic extracts of E. hirta in Sprague Dawley rats. The LD 50 was estimated to be more than 5,000 mg/kg. Results showed long-term oral administration of E. hirta extract for 90 days does not cause sub-chronic toxicity. (28)
• Safety of Tawa-tawa Decoction: Study evaluated the safety and antibacterial activity of the traditional decoction preparation of tawa-tawa. Results were negative for any antibacterial potential, and suggests that tawa-tawa decoction for oral intake is safe for oral use without risk of altering the normal flora of microorganisms in the gastrointestinal tract. (29)
• Comparative Antimicrobial Activity / Latex: Study showed antimicrobial activity varies with species and plant material used, and E. hirta possess stronger antibacterial activity than E. thymifolia. Most of the organisms used in the study were causative agents of diarrhea and dysentery, for which both plants can be used as treatment. (31)
• Antifungal / Inflorescence: Study showed an ethyl acetate extract of inflorescence of E. hirta possessed possible antifungal activity targeting cell membrane leakage of cellular proteins caused by Aspergillus flavus. (32)
• Molluscicidal / Latex: Study evaluated the toxic effects of binary and tertiary combinations of EH latex powder with other plant molluscicidal compounds against freshwater snails Lymnaea acuminata and Indoplanorbis exustus in pond. The combinations showed significant time and dose dependent effect against both snails. At higher doses, they were also lethal to freshwater fish Channa punctatus. (33)
• Green Synthesis of Silver Nanoparticles / Antifungal: Study presents the cost effective and environment friendly synthesis from 1mM AgNO3 through the leaf extract of E. hirta as reducing and capping agent. Green synthesized silver nanoparticles showed antifungal activity against Candida albicans, C. kefyr, and A. niger. (34)
• Anti-Ulcer Activity: Study evaluated an ethanolic extract of E. hirta aerial parts for anti-ulcer activity in various gastric ulcer models like pylorus-ligation, indomethacin, HCl/EtOH induced ulcerated rats. Findings suggest gastroprotective potential, partly related to anti-secretory action and gastric mucus secretion. (35)
• Immunomodulatory: Study showed an ethanol extract to inhibit polysorbate 80 induced degranulation of isolated peritoneal mast cells in vitro, indicative of mast cell stabilizing activity. Therefore, the anti-inflammatory activity may be attributed to its ability to stabilize mast cell membrane, inhibiting the release of inflammatory mediators. (36)
• Proximate Composition and Vitamin Content: In a study of dried leaves of various plants for proximate composition and vitamin level, E. hirta showed a moisture content of 9.70%, protein 13.5% ±0.15, fat 1.13% ±0.06, ash 3.13% ±0.06, crude fiber 3.57% ±0.06, and carbohydrate 69.5% ±0.20. Vitamin content showed ascorbic acid 26.1 mg/100g, thiamine 0.60, riboflavin 1.20, and niacin 0.70. (37)
• Platelet Effect: Study evaluated the thrombogenic or platelet increasing property of E. hirta orally administering the extract to mice (4 control, 4 subject). Results showed no significant difference in platelet counts. (38)
• Immunosuppressive Effect: Euphorbia hirta showed a decrease of delayed hypersensitivity (DTH) response and dose-related decrease in primary antibody response. Results suggest EH is a potent and non-toxic immunosuppressor, with potential for development of potent immunosuppressor, with a potential in the treatment of autoimmune diseases. (39)
• Anti-Biofilm Property: Crude methanol extract of E. hirta showed interesting and potential anti-biofilm inhibition and eradication activity against Pseudomonas aeruginosa. Results suggest promising anti-infective phytotherapeutical and pharmaceutical industry applications. (40)
• Cytotoxicity / Genotoxicity: Study evaluated the cytotoxicity and genotoxicity of E. hirta in MCF-7 cell line model. The extract showed significant cytotoxicity in the brine shrimp lethality assay, and exhibited genotoxicity effects against MCF-7 DNA in a time-dependent manner. (41)
• Antidiabetic / Antioxidant: Study evaluated the antidiabetic and antioxidant potentials of E. hirta leaves in STZ-induced experimental diabetes in rats. Results showed antioxidant potential of the leaves extract. Enzyme assays showed the non-toxic nature of the leaves. The hypoglycemic activity of the leaves extract was comparable with gliclazide, a standard reference drug. (43)
• Antiarthritic / Leaves: Study of fresh leaves of E. hirta ethanol extract for anti-arthritic effects. Results showed E. hirta caused improvement in adjuvant induced arthritis through down regulation of activated macrophages and T lymphocyte functions. Results suggest a potential in the long term management of clinical rheumatoid arthritis. (44)
• Anti-Quorum Sensing Potential: Study showed a wide variation in the anti-QS activities of the whole plant. The highest anti-QS activities were recorded by leaves and flower extracts. (45)
• Management of Thrombocytopenia and Flu-Like Symptoms in Dengue: Study evaluated the effect of herbal water of Tawa-tawa on flu-like symptoms and blood parameters, especially thrombocytopenia, on 125 patients with confirmed dengue fever. In over 70% of patients, there was improvement in platelet count, TLC, fever, and flu-like symptoms. (46)
• Effect on Platelet Count: Study sought to document the use of E. hirta among hospitalized dengue patients and compared platelet counts of cohort and control groups. Beneficial effect may be on the degree of change in platelet counts in the cohort group. The expected decline during the initial days of illness was less precipitous and the rise in platelet count was twice greater compared to the control group. (47)
• Potential Anti-Dengue Metabolites: Study for the chemical components of E. hirta revealed the ethyl acetate fraction as the most active fraction and significantly reduced the plaque forming capacity of dengue virus serotypes 1 and 2. Further purification of the active EA fraction yielded 6 known triterpenes and 3 flavonoid compounds. (48)
• Immunostimulant Activity: Study evaluated the effect of E. hirta as immunostimulant in improving the immune power of Cyrpinus carpio infected with Aeromonas hydrophilia pathogen. Results suggest the plant E. hirta has immunostimulant activity by stimulating both specific and non-specific immunity at higher concentrations. (49)
• In Vitro Anticancer Activity: Study investigated the in vitro anticancer effects of E. hirta. An ethanolic leaf extract was tested for cytotoxicity against Dalton Lymphoma Ascites (DLA) and Ehrlich Ascites Carcinoma (EAC) cell lines. The in vitro outcomes showed potent anticancer effect against both DLA and EAC cell lines. (50)
• Antiasthmatic Activity: An ethanolic extract of Euphorbia hirta inhibited the contractile effect of histamine in the histamine induced contraction in isolated goat tracheal chain. The antiasthmatic activity increased with increasing concentration of the extract. Flavonoids, glycosides, and saponin might have contributed to the observed antiasthma activity. (51)
• Anti-Stress / Bioflavanoid: Quercetin: Quercetin, isolated from a hydroalcoholic extract of leaves of E. hirta was evaluated for antistress potential using elevated plus maze (EPM) model and forced swimming test (FST) in Swiss albino mice. Results showed the Quercetin to be a novel compound for the treatment of neurobiological disorder (stress). (52)
• Neurophysiological Effects: Study of a lyophilized aqueous extract for E. hirta did not show anticonvulsant effects and no muscle relaxant effects. Although it did not have its own hypnotic effect in mice, it intensified those of barbiturates. Although it did not have neuroleptic activity, it had slight anti-depressant effects against reserpine induced ptosis and oxotrimorine-induced hypothermia. (53)
• Effect on Arthritis and Cartilage Degeneration: Study investigated the effect of water extracts of E. hirta on histological features and expressions of matrix metalloproteinases (MMPs) and tissue inhibitors of matrix metalloproteinases (TIMPs) in articular cartilage. E. hirta displayed dose-dependent effects on MMP-13 and TIMP-1 levels. These are mediators involved in the pathogenesis of arthritis. Results suggest E. hirta may be a viable alternative to arthritis treatments. (54)
• Radical Scavenging Activity / Leaves: Study evaluated extract of leaves of E. hirta for antioxidant activity. E. hirta showed in vitro and in vivo powerful antioxidant activity. The DPPH scavenging activity compared to standard ascorbic acid and BHT. (56)
• Wound Healing / Polyherbal Formulation Containing E. Hirta: Study evaluated the wound healing activity of a polyherbal formulation with equal parts of ethanolic extract of T. procumbens, E. hirta, E. alba, dried rhizome of C. longa and gel of A. barbadensis on excision wound, incision wound and granuloma wound models. Study concluded the topical and oral formulations were found to contain significant wound healing activity. (57)
• Hepatoprotective against Antitubercular Drug-Induced Cytotoxicity: Study investigated the protective effect of E. hirta against antitubercular drug-induced cytotoxicity in freshly isolated hepatocytes. Extent of cytotoxicity was analyzed using human liver derived HepG2 cell line. There was a dose-dependent increase in percent viability when HepG2 cells exposed to antitubercular drugs were treated with various concentrations of plant extracts. Results suggest hepatoprotection against drug-induced cytotoxicity. (58)
• Antimicrobial / Wound Healing by Augmentation of Fibroblast Proliferation: Study investigated for in vitro and in vivo wound healing activity using human dermal fibroblast cell line. A methanol extract screened for wound healing activity in Wistar rats showed potent antimicrobial activity against E. coli and K. pneumonia. Results suggested E. hirta accelerates wound healing by augmenting the fibroblast proliferation and Smad-mediated collagen production in wound tissue. (59)
• Antimycobacterial Property: Study screened various extracts of leaves against non-mycobacterial pathogens and Mycobacterium tuberculosis H37Rv. In the LRP assay, the ethyl acetate extract showed better activity with maximum of 64.73% reduction in RLY against M. tuberculosis. Results showed Euphorbia hirta exhibits significant antimycobacterial property. (60)
• Protection Against Snake Venom Induced Lethality: Study showed E. hirta methanolic extract was able to completely inhibit Naja naja venom induced toxicity under in vitro as well as ex vivo conditions. (61)
• Platelet Augmentation for Thrombocytopenic Disorders: Study investigated the platelet augmentation activity of selected Philippine plants. Results showed Carica papaya, Ipomoea batatas green and violet variety, Althernanthera sessilis, E. hirta may have potential as supportive treatment for thrombocytopenic disorders. (62)
• Use of Euphorbia hirta in Dengue Treatment in Indigenous Communities in Pangasinan: Study documented the anectodal and traditional self care uses of Euphorbia hirta in the treatment of dengue in 3 indigenous communities in Pangasinan from April to June 2015 according to demography, relative importance and FL. The most widely used dosage forms were decoctions of leaves and bark. Study found E. hirta to be effective against most symptoms of dengue in the initial, febrile, and recovery stages. (65)
• Tawa-tawa Active Ingredients in DHF: Study evaluated tawa-tawa's curative properties in a rat model mimicking dengue hemorrhagic fever with thrombocytopenia induced by ethanol, chloramphenical, and heparin. The tawa-tawa decoction increased by platelet count by 47% depending on the drug used to induce thrombocytopenia, bleeding time was decreased to 62% while blood clotting time decreased to 58% compared to control. Study proposes that tawa-tawa promoted cell production and prevented platelet destruction. The platelet effect was attributed to phenolic constituents. (66)

Availability
- Wild-crafted.
- Tea, candied or capsules in the local market.