Botany
Tungkod-pare is an erect, smooth shrub which grows from 1 to 3 meters high from tuberous roots. Stems are simple or somewhat branched, and marked with leaf-scars. Leaves are mostly near the apex of the stem, lanceolate to oblanceolate, and usually tinged with red or purple, 30 to 50 centimeters long. Panicles are terminal, purplish, laxly branched; the branches up to 30 centimeters in length, and slender. Flowers are pink, and about 1 centimeter long, slender, tubular, with the perianth split to the middle into 6 equal lobes. Stamens are 6, ovary 3-celled, with 4 to 16 ovules. Fruits are globose berries, and about 5 millimeters in diameter, few or one-seeded.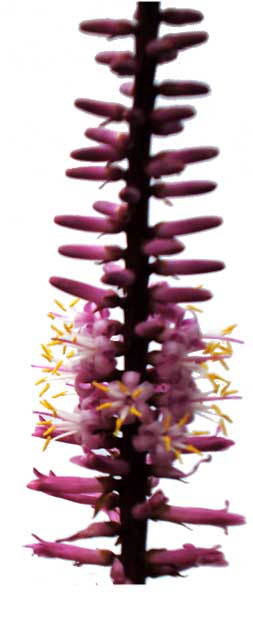 Distribution
- Widely cultivated for ornamental purposes.
- Probably originated from Malaya.
- Now pantropic in cultivation.
Constituents
- Yields imidazole alkaloids, linoleic acid, saponins, sarsapogenin, smilagenin, sterols, tyramine.
- Contains 5b-spirostanes, calcium oxalate, cholestine glycosides, flavonoids, fructan, polyphenols, polysaccharides.
- Study isolated four new cholestane glycosides (1-4) from the leaves of C. terminalis. (13)
- Cordyline fruticosa leaf extract yielded farrerol, quercetin 3-O-[6-trans-p-coumaroyl]-ß-D- glucopyranoside, helichrysoside, apigenin 8-C-ß-D- glucopyranoside, quercetin 3-O-ß-D glucopyranoside (isoquercitrin), and quercetin 3-O-"-l-rhamnopyranosyl-(1-6)-ß-d-glucopyranoside. (see study below) (16)
Properties
- Considered antiseptic, aphrodisiac, depurative, diuretic, mildly cooling, blood refrigerant, febrifuge, laxative, purgative, hemostatic, disperses contusions, analgesic, tonic.
Parts utilized
· Flowers, leaves, stems, and roots.
· Flowers may be collected in May. Sun-dry.
· Roots and leaves may be collected through the year.
· Rinse and cut into pieces, sun-dry.
Uses
Edibility
- In Java, young tender leaf shoots are eaten as vegetable.
- Roots may be boiled and baked into food, sweet candy or a fermented drink.
- In Hawaii, leaves used to preserve breadfruit.
- Used as sweetener in Fiji.
Folkloric
· Used for hemoptysis due to pulmonary tuberculosis, premature abortion, excessive menstruation and blood in urine, bleeding due to piles.
· Used in enteritis-bacillary dysentery, rheumatic bone pains, swelling pain due to sprains.
· Dosage: use 60 to 90 gms fresh leaves or 30 to 60 gms dried roots or 9 to 15 gms dried flowers in decoction.
· In Fiji, root used for baldness, gum abscess, gingivitis, toothaches; leaf juice for eczema, abdominal pain, gastritis, eye infections; leaf buds used for lower chest pains. Also, leaves and stems used as abortifacient.
· In Java, sweet rhizome used with betel leaf to cure diarrhea and dysentery. Also, used for indigestion.
· In Malaya, decoction of red leaves with Lygodium used for dysentery.
· In New Guinea, root decoction used by lactating mothers to treat mammary gland infection. Juice from heated leaves used for colds, cough, and whooping cough.
· Infusion of new plant shoots used for filariasis. Stem juice used for postpartum illnesses and to help expel the placenta.
· Roots used to treat baldness. Leaf juice used for earaches, sore eyes, cough, stomachaches, eczema and gastritis. Roots used for treating toothaches and laryngitis.
· In Sumatra, outer part of the stem used with white sale for inflamed gums.
· In Hawaii, leaves used as heat pack; also for fever, asthma, chest congestion, headache, back pain, burns, constipation; flower juice snorted for nasal polyps.
· Surinamese Indonesians use pieces of root in vinegar for bleeding. Leaf infusion in oil used to treat wounds. Infusion of three crushed leaves of the purple cultivar used for a hypotensive drink. Proximal part of the leaf. macerated in olive oil, used as a cataplasm or tampon for wounds.
· In Lombok, Indonesia, used for diarrhea. Leaves used for wounds inflicted by fish stings.
·In Samoa, used for elephantiasis, gout, scrotal swellings, and back pains.
Others
· Ceremonial: In Hawaii, used in making healer's leis, and used in ceremonial blessings - blessings, purifications, to dispel curses, and for exorcisms. In New Guinea, plant used for casting love magic on women. In Malaysia, used for black magic.
· In Hawaii, leaves used as food wrapper; also to line pans used for baking fish and other seafoods, imparting a flavor to cooked products. (12)
· Ornamental: In Hawaii, ti leaf used for hula skirts, leis, garlands, or pu olo used to make an offering to the gods. (12)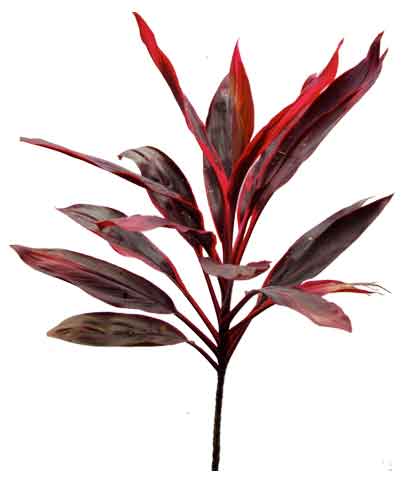 Studies
• Antibacterial: Study of methanolic extract of C terminalis (Cordyline fruiticosa) showed moderate antibacterial activity against E coli, Shigella boydii, Strep pyogenes and Staph epidermis. (1) Study evaluated the antibacterial property of a leaf extract. Results showed moderate antibacterial effect against E. coli and massive antibacterial activity against B. subtilis. (15)
• Antiproliferative: Study isolated from the aqueous extract of C terminalis a natural nucleoside, thymidine. Thymidine inhibited cell replication and decreased cell viability. It also inhibited a human breast cancer line. (2)
• Anticancer Potential: Preliminary results showed the presence of potential MKK1 inhibitors in the crude extracts of A excelsa, C terminalis and T crispa. MMK1 (Mitogen-activated Protein Kinase 1) is one of the potential molecular targets for cancer therapy, together with GSK-3b and PP1, that play a vital role in MAP kinase signal transduction, tumorigenesis, apoptosis and cancer metastasis. (3)
• Anthocyanin: Study reports an efficient and promising protocol for enhancement of anthocyanin production from the callis cultures of some ornamental plants. The highest values were obtained with celosia, cordyline and catharanthus calli cultures, respectively. Anthocyanin pigments and derivatives are flavonoids and unique to the plant kingdom, beneficial to human health with potential anti-cancer, cardioprotective, anti-inflammatory and antioxidant properties. (4)
• Antioxidant / Sodium-Caseinate Bead Encapsulation: Study of methanolic extracts revealed 102.6 mg/g of gallic acid equivalent of polyphenols, with an antioxidant activity of 13.4 mg/g of ascorbic acid equivalent. Encapsulation in sodium-caseinate beads provided antioxidant stability compared to unencapsulated extracts. Sodium-caseinate beads offer a potential for food supplementation with natural antioxidants. (8)
• Anti-Cancer / MMK1 Inhibition: MMK1 (mitogen-activated protein kinase) is one of the potential molecular targets for cancer therapy, playing a vital role in mitogen activated protein (MAP) kinase signal transduction, tumorigenesis apoptosis, and cancer metastasis. Study of crude extracts of C. terminalis showed potential inhibition against MKK1. (10)
• Antibacterial / Leaves: Methanolic extract of C. terminalis Kunth and its solvent fractions moderate antibacterial activity against Escherichia coli, Shigella boydii, Streptococcus pyogenes and Staphylococcus epidermis. (11)
• Antioxidant / Stem Barks: Study evaluated the antioxidant activity of two plants viz., Cordyline fruiticosa (leaves) and Eriobotrya japonica (stem bark). Both plant fractions exhibited excellent radical scavenging ability on all assays and showed to be promising sources of natural antioxidant ingredients. (16)
Toxicity
Some leaves are reported to contain calcium oxalate raphides and should be cooked. Young raw leaf shoots are sweet and edible.
Availability
Wild-crafted.